Growing Traditions Is Our Family Tradition.
Victorian Pines Christmas Tree Farm started in 2006 as a father/son business, operated by Craig and Ryan Pfantz.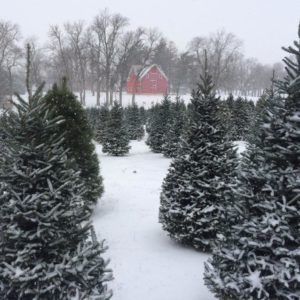 Located on the east edge of historic State Center, our farm plays host to a Victorian house and our iconic red barn, built at the turn of the 20th century by Craig's maternal great grandparents.
Craig, a lifelong farmer, always wanted to start his own Christmas tree farm. When Ryan decided to move back to State Center to try his hand at farming and start a family, the duo jumped at the chance to start a family partnership.
The first trees were planted in 2006 and the barn doors opened to the public in 2011. We've been inviting families back year after year ever since.
Today, the farm staff grows much the same as its trees. Ryan's wife Tara helps with the farm's marketing and the extensive mowing of the farm, a few happy helpers join us every Christmas season to help guests with their trees, and don't forget our hardworking groundskeepers!
We hope you decide to visit Victorian Pines and make our family tradition a part of yours.